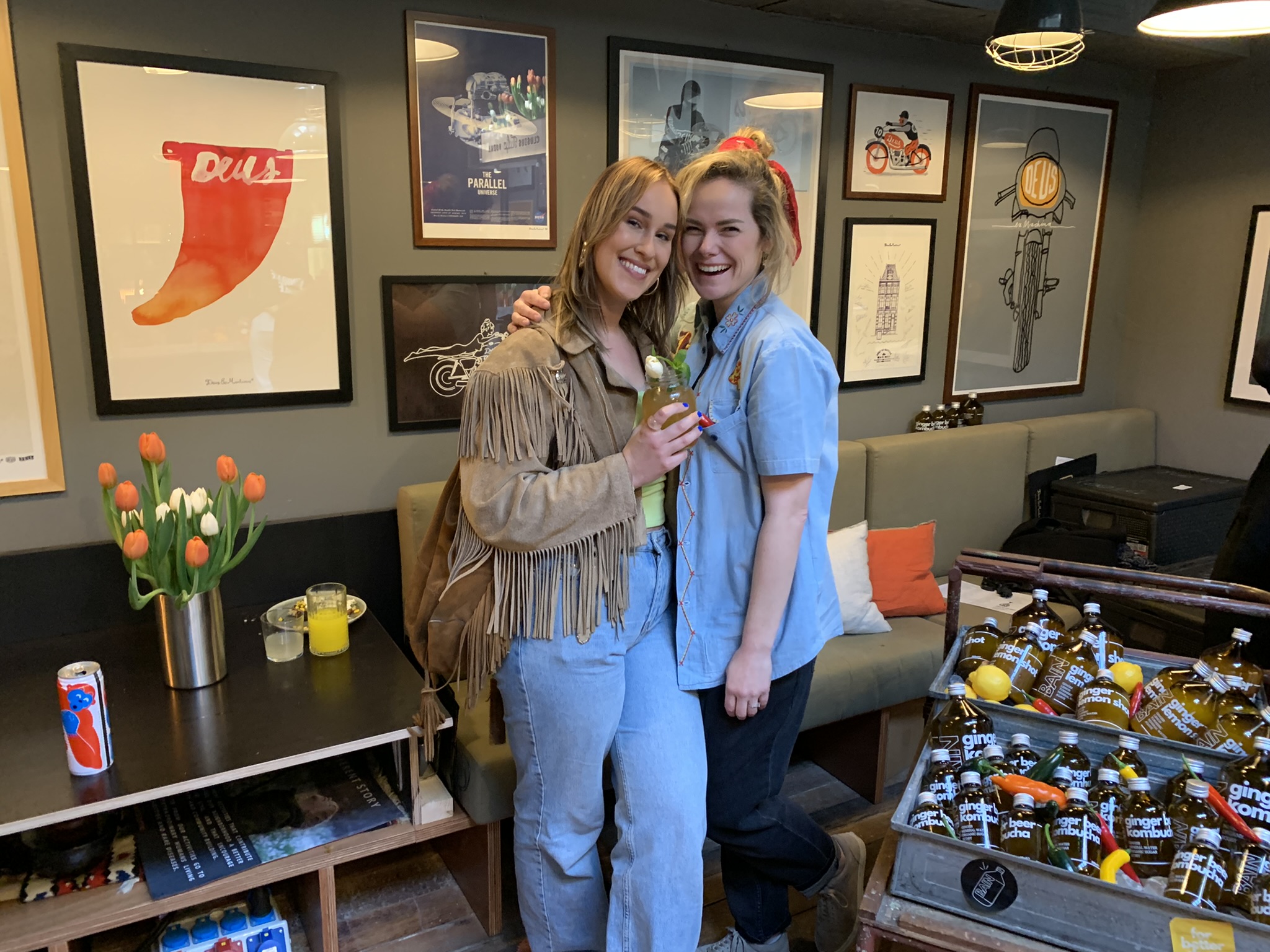 Eerste editie Shit Hot Fest trekt peperliefhebbers uit binnen- én buitenland naar Amsterdam
De eerste editie van het Shit Hot Fest in Amsterdam was een groot succes. Peperfans en liefhebbers van hete sauzen en spicy gerechten kwamen afgelopen weekend naar Deus Cantina op Herengracht 88 om te proeven, ontmoeten en hun voorraad sauzen aan te vullen. Het tweedaagse event bleek een magneet voor ruim 300 bezoekers uit binnen- en buitenland, met een nieuwe community van hot sauce makers als resultaat: "Het Shit Hot Fest overtrof mijn wildste verwachtingen, en de creatieve energie van onze entrepreneurs was 'electric'", aldus Neil Roake, mede-organisator Shit Hot Fest.

Road map door de wereld van de peper
Bij binnenkomst kregen bezoekers een lijst met alle producten, gerechten en verkoelende opties. "Een road map naar de wereld van de peper. 'And beyond' ", aldus Neil Roake. "Het Shit Hot Fest is een event geworden waar creatieve ondernemers een podium hebben gekregen. Van Clusius Tulip Vodka maker Joris Putman, cider importeur Roy LePoutre (The Travelling Nut), kombucha maker BAIN Brewing (Dusty Bain) en het Amsterdamse LALA Tequila (Ambre van den Berg en Iris Sijlmans) tot de 14 internationale hot sauce makers die hier in de spotlight stonden. De meesten zijn hun business begonnen in de lockdowns en hebben hier laten zien wat voor sh*it hot ideeën daaruit voort zijn gekomen."
Publiekstrekker: wedstrijd pepers eten
De publiekstrekker op zaterdag was de hot chilli eating competition, mede mogelijk gemaakt door Westlandpeppers. 4 hot heads namen het in een hete strijd tegen elkaar op om €100 en eeuwige roem te winnen. Deelnemers uit de VS, Palestina, Groot-Brittannië en Nederland aten hun weg naar de hoofdprijs door 14 pepers te eten, van mild naar sh*it hot. Ze bleken aan elkaar gewaagd: Palestina en USA gingen er met een gedeelde eerste plaats en met de felbegeerde titel 'Sh*t Hot Chilli Head' vandoor.
Community van hot sauce makers
Beide dagen waren drukbezocht. Op zondagmiddag stond de teller op een totaal van ruim 300 bezoekers. De meeste van hen kwamen uit Amsterdam en omgeving, maar ook peperfans uit heel het land en zelfs België kwamen voor het event naar Deus Cantina. "De peper blijkt nóg hotter dan we dachten", aldus Neil. "Er zijn dit weekend zelfs plannen gemaakt voor een Shit Hot Fest in Portugal, het gastland van deze eerste editie. De hot sauce makers hebben elkaar hier gevonden en hun community is 'on fire'".
Impressie van een sh*t hot event
Voor een impressie van het Shit Hot Fest, bekijk de uitzending van AT5 over het event of neem een kijkje op Instagram.com/deuscantina.
Meet the makers
De hot sauce makers en partners die tijdens Shit Hot Fest hebben gevlamd:
Portugal >> Temperus, Senhor Rito, O Petiska
Nederland >> Lil' Salsa (by A Different Story), Sweet Heat Hot Honey, Original Sinners, T-Rex Sauces, Herbano (Roots, Rice & Beans), Charlie's Fresh, Pika Hot Stuff, Chilli Chan's, Hush Hush Hot Sauce, Oh Na Mi Kimchi
Verkrijgbaar in de DEUS Hot Sauce Shop:
Crazy Bastard (Berlijn), Happy Hatters (Aarschot, België), Ferment Island (Gozo, Malta), Onima (Barcelona), Saucy Dans (Amsterdam).

Ciders geschonken bij de Cider Bar:
Decideret Cider (Kopenhagen), Kupela Basque Cider (Baskenland), Cidre Kern (Bretagne), Maeloc (Galicia).

Verkoeling bij de 'Cooling Stations':
Fountain of Youth Coconut Water (Berlijn) en frozen Margaritas van het Amsterdamse LALA Tequila, Kombucha van BAIN Brewing (Rotterdam), en cocktails met tulpen Vodka en spicy touch door Clusius Tulip Vodka (distilleerderij Katwijk).
Over Deus Cantina
Deus Cantina (Herengracht 88) is meer dan een restaurant alleen. Samen met de Deus Store (Herenstraat 13) vormt de Cantina een 'tempel' waar alles waar het Australische merk Deus ex Machina voor staat samenkomt: een broedplaats voor creativiteit, een inclusieve plek waar je kunt socializen en je laat inspireren. Bij Deus Cantina loop je de hele dag binnen, voor een koffie, laid-back brunch of flexwerkplek. Het is een hang-out waar je na een uitgelopen lunch met vrienden blijft hangen voor de Borrel Bar, voor goed bereide classics als Burgerdicts en Persian Green Frittata, de spicy watermeloen salades of sharing platters met Padron Fried Chicken en Hamachi Crudo. Deus Cantina is een 'road trip across the world' en langs de 11 Deus tempels in o.a. Bali, Sydney en Milaan. Op het menu vooral plant based- en vegetarische gerechten, maar ook verrassende opties voor vleesliefhebbers. Aanschuiven bij Deus Cantina is samen eten, delen en lachen. 'Ain't we got Fun!'
Openingstijden: wo-za van 11:00-00:00 uur, zo 11:00-18:00 uur.
www.deus.amsterdam
|
Instagram.com/deuscantina
|
Facebook.com/deusamsterdam
.