Interview with the founder of MVDT Collection
Meet Marlous, born and raised in The Netherlands. I met Marlous during a training United for Success for young entrepreneurs in the Fashion Hotel in Amsterdam. I was impressed by the jewelry she wore and her passion for the brand she created. After the training, we were determined that we would start working on our video promotions together. Creating videos never happened, but we kept in touch. As an editor for the magazine Fabulous Mama, I featured her new collection and I know would like you to get to know Marlous a bit better too.
You must be proud of owning your own jewelry brand! Can you tell us a bit more about how you started this exciting journey of running your own business?
Education-wise I studied Hotel Management and Communication Creative. After this, I decided to start a career in fashion, since it has always been my childhood dream. I hesitated to do another fashion study, but I thought a third education might be a bit too much. In 2006 I started to design fashion items myself. I did a photoshoot, made a website (this was very new during that time) and organized an exposition. I made a living window, models were presenting the designs in a living room area. All models were wearing a black wig with a bob line as this was also the styling in the photoshoot. The photos were framed in the living room area. The models made cocktails on a 'vintage' cocktail tray and served them. The evening was a great success and had a cool, New York vibe, according to the visitors.
Although the guests were very enthusiastic about this project, I decided to first work in the field and get experience in different areas. I worked for around 7 years in the fashion industry. After gaining all that experience and having seen the many faces of the industry, I decided to follow my dream again, living a time abroad and start my own business.
In 2014 Marlous started her creative journey. This resulted in a 6-month adventure that took her to the other side of the world. In Bali, Indonesia, she learned from local artisans the art and crafts of jewelry making. The outcome is a beautiful line of exclusive, complementary pieces.
Can you tell us more about the start of MVDT in Bali, the place you decided to go to?
After a few years of working in Fashion, I quit my job and moved to Indonesia, Bali for 6 months. Three years before (2010) I discovered this beautiful, magical Island with my sister. On the backseat of our bike driving through the Island, I said to her: "If I start a business, I would like to do it here". Said and done, at the end of October 2013, I left for Bali to follow my dream.
After being three weeks in Bali, I randomly ran into a workshop of jewelry making and decided to follow a course of 20 lessons. It was there that I learned the art and craftsmanship of the locals. In between the lessons I already sold some pieces to people I met during my trip. That was how I felt this had potential. I designed the logo at the beach, made packaging, did a photoshoot and finally came back to The Netherlands. With great memories of the best time of my life, a feeling of being free and having my own jewelry brand.
What was the biggest challenge for you in the whole process?
The biggest challenge? Coming back in the Netherlands from a really great trip, and adapting again to life as it is here. Starting selling my own designs in the shops in the Netherlands, was quite a challenge too. I worked in retail before, but selling your own designs is something else. It's definitely scary in the beginning, and although it gets better, every time the launch of a new collection is still quite exciting!
What are your ambitions for MVDT?
I would like to expand MVDT GOLD. Furthermore, I realized during the journey that it's important that I have fun and enjoy what I do. It's easy to lose that in the process. I started MVDT to improve the quality of my life. That was and still is the most important goal. I realize I'm very privileged that I can do what I love.
If you can name one person you would like to collaborate with, who would it be?
If I need to pick a brand now, it would be Janessa Leone. I love her style and her campaigns are beautiful. Although I never met her, I think she's a relaxed person and I like realness. That appeals to me, since I believe the person behind a brand is very much important too. Last but certainly not least she's passionate in what she does. Personality-wise I see Emanuelle Alt and Caroline de Maigret as a great inspiration, and it would be a dream to collaborate with them.
Last question before we dive into your style: can you tell us which project made you very proud?
Definitely the Lion collection! The technique I used for this collection was a new way for me to create a piece out of wax. It was a really fun process and the end result was stunning! Everytime I look at the design I realize that the lion I envisioned became real.
And now about your style…
Can you describe your style?
A classy clean style with an edge. I don't like to be too girly, I'm not very fond of wearing a dress for example. I mostly wear black or earth tones like camel, sand, creme, and white. The only color I do wear sometimes is red.
What does your favorite outfit look like?
I love to wear jumpsuits or workers that I style with my All Stars. In winter I love to wear a hat, also indoors. For me comfort and warmth is important in winter time. I also love suits: a pantalon with a blazer always does the job!
Who is your style icon and why?
Emanuelle Alt and Caroline de Maigret, I love their style. Cool, minimal and elegant. I like the french style. Natural, elegant and not too perfect.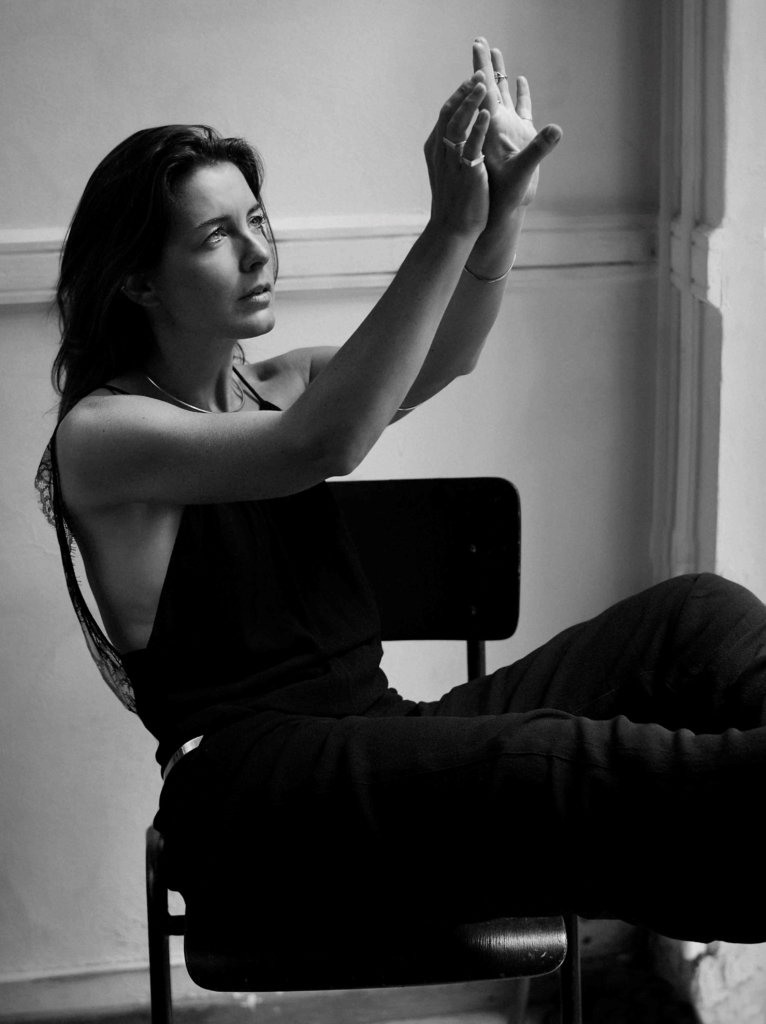 Did you ever work with a stylist?
No, I never worked with a stylist myself. However, for the MVDT Collection, I like to do the creative part myself, since I'm a creator. However, sometimes it's nice to have a different point of view. That's why when I do shoots, for example, I like to give the free hand to the creative ideas of the photographer.
If you could give my audience one styling tip, what would that be?
You have to make sure your wardrobe has a really good basic collection. Quality is important. So spend a bit more for quality. Fillipa K, for example, has really good basics and they have quality. A proper shoe collection is also important. It really spices up your outfit. On top of your basics, you can add some fun pieces. I buy more vintage nowadays as it's more sustainable and the pieces are unique. @stillevenstore, for example, has beautiful pieces of good quality.
Recently I also started to buy secondhand Levi's, a good way of 'shopping' more sustainable. The jeans are already worn down a bit and customized by the previous owner, which makes it a unique piece too. Last but not least, of course, add a few nice pieces of jewelry to make your outfit more extravagance.
MVDT designs exclusive jewelry design with an edge. New shapes create a unique, timeless collection of complementary pieces handmade of pure metals brass, silver, and gold out of a sustainable perspective.
Interested in the MVDT Collection? Visit the online shop.