'Small moments of luck, bring great moments of joy'
In recent weeks we have been blessed with beautiful sunny days. A great time to welcome summer the fresh High Summer collection of POM Amsterdam. This sparkling collection lives up to its name, A Burst of Luck. And who could not use a bit of luck in these troubled times? The collection consists of bright colours such as sulfur yellow and mint green. The colourful eclectic prints give you direct outfit inspiration and an instant happy feeling. The prints are personally designed by Liesbeth and Violet Lotgering, POM Amsterdam's founding sisters. Some of the prints represent the happy moments of Liesbeth and Violet. Liesbeth about the print Jeux de Fleurs: "The inspiration is a walk through a wonderfully fragrant and colourful flower field, which immediately makes me happy." This moment of the happy feeling is expressed in a summery floral print, incorporated into airy dresses and tops. The print "Confetti Kisses" shows that happiness is in little things. Whether you enjoy a beautiful view, a table topped with good food, a warm hug or a gentle smile. Life is a confetti explosion of all kinds of small moments of happiness, according to Violet and Liesbeth.
POM Amsterdam by Katja
Part of the High summer collection is partly co-designed items by Katja Schuurman, POM fan from the very beginning. Her moments of happiness take you on long journeys, a magical sunset and even a meeting with a dragon! The theme "Dragon Love" stands for protection. Katja: "I have been told that the two meter long dragon that I brought on Bali 15 years ago protects me and my house." This dragon returns in a beautiful print in sulfur yellow; with this wrap dress you have a look with which you always make an unforgettable entrance. Katja's favourite moment of the day is "magic hour". A beautiful sunset, where you sit with your bare feet in the sand, still feeling the sun kissing your skin, and sipping from a delicious cold Margarita. This ultimate feeling of happiness has been Katja's inspiration for the print "Tequila Fun". A print with a wink: the Agave plant, from which Tequila is made, is a symbol of happiness for Katja. You can find this print in a long skirt with matching singlet, made of fine natural fabrics. Combine this outfit with strappy sandals and you are ready for summer!
Last but not least; the print with the famous waving lucky cat! Katja has a big crush on the "Maneki Neko" that attracts the attention of customers with its waving left leg. It is a talisman that brings good luck and prosperity. Someone who therefore can't be missed in this collection! The print can be found on i.e. the bright green playsuit. Nice side effect: part of the proceeds from the POM by Katja collection will go to Return To Sender.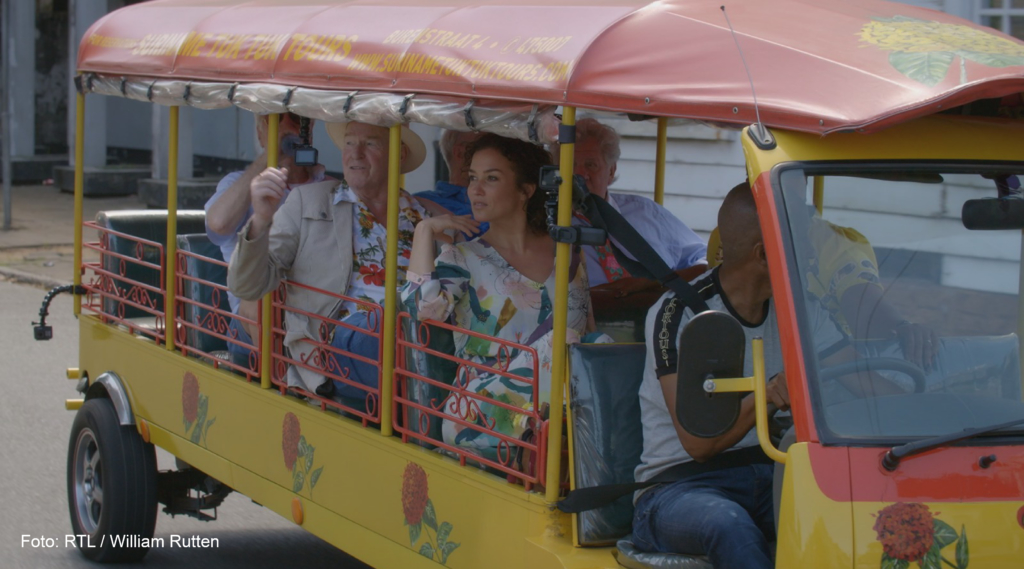 Comfortable fashion
The High Summer collection is made of natural materials such as cupro and viscose and airy fabrics such as linen. Characteristic in this collection are the details of lace and embroidery in shorts, tops and flowy dresses. POM Amsterdam designs clothing that is as elegant as it is comfortable. Designs that feel qualitative and fine on the skin and accentuate your strengths. My favourite? The bright yellow maxi dress with dragons and leopard print! Waiting to make an entrance now!